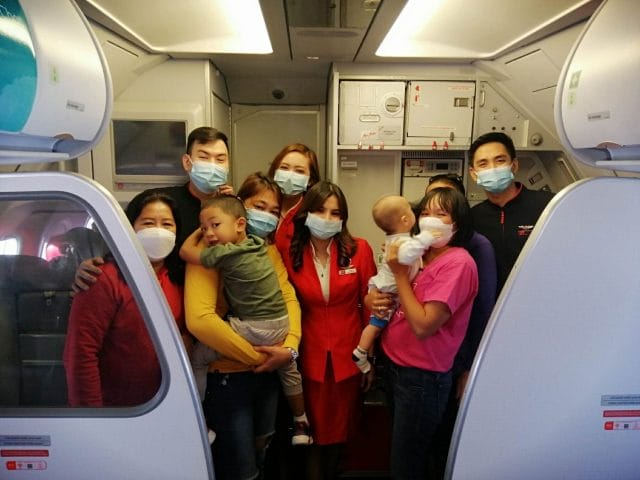 Philippines AirAsia's partnership with Operation Smile Philippines (OSP) began this year by transporting two children with cleft lip and palate conditions from Tacloban City to Manila on March 19, 2023. Jehro, who is three years old, and Luke, who is nine months old, received cleft and surgical care at OSP's Pampanga Cleft Care Center, located in The Medical City Clark.
Jehro was born with both cleft lip and palate conditions. He had his first surgery at seven months old in OSP's Tacloban Surgical Program in January 2019, right before the pandemic started. He was supposed to have his second surgery in 2020, but the pandemic affected all activities of OSP, causing a delay. However, at the start of 2023, OSP sought patients to fly to Manila for cleft care, and Jehro was chosen as one of the two patients.
Jehro, a 3-year-old boy, is an energetic kid who loves playing and watching sports like football, golf, and billiards. He also enjoys the ocean and exploring the nature around him. He is talkative and likes to sing. Jehro's parents are very hands-on with their children, and they make ends meet by freelancing and selling clothes online.
"Hindi po namin makakalimutan itong moment na ito. Taos-puso po kaming nagpapasalamat." [We will never forget this moment until he grows old. We're grateful sincerely, from the bottom of our hearts.] Jehro's mom said in an interview with the parents of the children.
Luke was born with a unilateral cleft lip. When he was nine months old, he received his first lip surgery. Luke's father is a farmer and construction worker who is on call. When Luke was born, his parents were unaware that his condition could be addressed. Additionally, he was the only one in his family with a cleft lip. Upon seeing his cleft lip condition, neighbors often looked at Luke with dismay, but this did not trouble his parents. They immediately committed to the schedule after learning that Luke could receive surgery last March.
"Maraming salamat po sa AirAsia sa tulong po ninyo lalo na po sa anak namin. Di po namin ito makakalimutan. Kayo po ang maaalala namin tuwing ngumingiti po ang anak namin." [Thank you, AirAsia, for all help specially to our child. We will never forget this. You'll be the one we'll remember every time our child smiles.] Luke's mom said.
In January 31, 2023, OSP and Philippines AirAsia renewed their alliance and strengthened their relationship with new innovative projects in the pipeline. AirAsia has been instrumental in the success of providing care to OSP's patients, serving as their transportation provider, and sharing their cause with the many transient travelers who pass through their airlines. They announce their cause and collect onboard donations, making them a vital partner in providing care to their patients.
Inflight cash donations totaled more than half a million pesos for the past year, allowing OSP to provide even more comprehensive cleft care to their patients who need it the most. This year marks a new year and new opportunities to improve how to transform smiles more effectively.
AirAsia Philippines Chief Executive Officer Ricky Isla shares: "This reinforced partnership with Operation Smile Philippines signifies our resolve to make it happen for the Filipino children and their families. Our vision in AirAsia of inclusive growth is evident—-beyond connecting people, we want to be there for the people we serve, especially the marginalized. Each time you fly with AirAsia, you don't just reach your destination safely, but you can change people's lives for the better."
Operation Smile Philippines Executive Director Emiliano Romano said, "I am ecstatic about renewing our partnership between Operation Smile Philippines and AirAsia. Our vision and cause of transforming lives cannot be done alone; instead, it takes a community of like-minded individuals to affect change. AirAsia has been an essential partner, a vessel, and a catalyst of change.
We look forward to more projects in the many years to come."
AirAsia will be vital in transporting medical volunteers and patients in the coming years as Operation Smile Philippines grows.