We care for the individual child, holistically.
We provide safe, well-timed, and effective treatment that doesn't stop with the first surgery. We seek to meet both the range and depth of needs for every patient who comes to us with an unrepaired cleft.
We believe volunteerism creates change.
No person, enterprise, or sector can single-handedly achieve transformational change. But when people come together with their unique talents and serve, the impossible becomes possible.
Each of our programs are designed to collaboratively interact with the larger ecosystem in the most effective way possible.
The problems we seek to solve–from the shortage of surgical workforce personnel to the growing backlog of untreated clefts– are too big for individual missions to address. Through the child with a cleft, we aim to drive large-scale change in national surgical delivery.
Operation Smile is an international medical charity whose global network of thousands of credentialed medical volunteers from over 80 countries is committed to helping improve the health and lives of children from more than 60 countries. Since 1982, we've worked with local medical professionals, governments, hospitals and other NGOs to deliver the safest care to each of our patients, and have established care centres wherever possible to give children ongoing medical treatment. Operation Smile continues to provide training and education for local medical professionals so they can provide care within their own communities and help others around the world. To date, we have provided more than 240,000 free surgeries for children and young adults born with cleft lip, cleft palate and other facial deformities.
WHAT IS COMPREHENSIVE CLEFT CARE?
Medical and Nonmedical Volunteer Specialties
Anesthesia: Anesthesiologist/Pediatric Anesthesiologist/Certified Registered Nurse Anesthetist
The administration of anesthesia is a critical aspect of performing safe surgery – without it, none of our work would be possible. Our anesthesia providers deliver the highest level of care to a broad age range of patients from infancy to adulthood in varied environments across the globe. They work in harmony with the surgical and nursing teams to deliver anesthetic care and pain management.
Biomedical Technicians 
Biomedical technicians ensure that we can bring state-of-the-art medical equipment to even the most rural and remote hospitals. Their responsibilities include guaranteeing the integrity of hospital infrastructure and systems. They assess, monitor and repair equipment supplied by both local foundations and Operation Smile Global Headquarters. Our biomedical technicians are essential in ensuring the safety of our patients and volunteers on the medical mission.
Child Life Specialist 
Our child life volunteers are licensed professionals that provide psychosocial care and guide the patient and family through the surgical experience. They utilize their knowledge of child development to ease patient fears and anxieties by explaining and demonstrating every aspect of care. They facilitate therapeutic play and activities, working with parents, and act as the child's and family's advocate in the potentially confusing world of the hospital.
Dentistry
Our dentists focus on oral health, providing care to surgical and non-surgical patients. This may include extractions, creation of obturators and other strategies that improve intra-oral function, speech and aesthetics of our patients. Throughout the mission, they also provide preventative and home care instructions to patients and their families.
Nursing: Pre/Post-Operative, Operating Room, Recovery Room
Our nurses provide patients with their professional skills and personal touch. They embody the compassionate and caring spirit of Operation Smile's medical volunteer community. Their knowledge of pediatric principles and their diverse abilities ensure that every patient receives the exceptional care they deserve, every step of the way.
Pediatrician 
The majority of the patients we serve are children, so we rely on the knowledge and insight of pediatricians to interpret the entire health picture of each of our patients. The pediatrician's input is critical to our pre-operative comprehensive health evaluations, which determine if children are healthy enough to receive surgery. They continue to care for patients after surgery and ensure families are prepared to take their child home.
Pediatric Intensivist 
Recovering from anesthesia is a critical period for our patients. The placement of PI/PACU physicians in the recovery room allows us to provide a safe environment for patients undergoing surgery. Recognition of potential complications and responding with life-saving cardiopulmonary resuscitation skills are essential to providing the best level of post-operative monitoring and care.
Plastic Surgery
Our plastic surgeons are highly experienced in comprehensive cleft surgical care. They are charged with performing a diverse array of cleft lip and cleft palate procedures on an aggressive timeline and continually balance providing the best possible patient outcomes and serving as many patients as possible.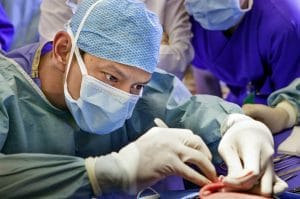 Speech-Language Pathology 
Our speech language pathologists have a wide range and depth of educational and clinical experiences in cleft and other craniofacial disorders. They partner with the medical team to provide insight into which types of procedures or nonsurgical options ensure the best speech outcome for every individual patient. They additionally work with patients and families on nutrition and general speech and language education.
Electronic Medical Records Specialist
Electronic medical records are kept not only for legal documentation, but to capture patients' medical histories and current treatments to understand which future treatments are needed. These records also store information that can be used to identify areas of dire need, where access to safe surgery is lacking, which influences future programmatic activity.
PIT (Patient-Imaging Technicians) Medical Photographers
A vital part of the volunteer team who takes technical photographs from specific angles so the doctors can assess the severity of the case before surgery.